Company Information
Distant Focus Corporation is an R&D engineering firm that has specialized in optical and sensing technologies for more than a decade. We design and produce prototype cameras and advanced imaging platforms, as well as multi-sensor electronic circuit boards, microscopes, interferometric systems, fiber-optic solutions, and other advanced technologies.
Distant Focus accepts prototype and small-to-medium scale production work which allows us to manage all aspects of a project. We routinely partner with academic researchers, national laboratories, and military contractors to develop cutting edge solutions.
Distant Focus prides itself in producing the best solution for our customers. Our goal is quite simple - "To transform your concept into an operational system."
Distant Focus has offices in Champaign, Illinois and Longmont, Colorado. Our Champaign headquarters is minutes from the University of Illinois which allows us access to its vast wealth of talent and infrastructure. Our Longmont office is a short distance from Boulder and its flourishing entrepreneurial environment.
History
Distant Focus was conceived in 1997 at the University of Illinois at Urbana-Champaign becoming operational in 2001 to commercialize various research projects. We have partnered on several projects sponsored by DARPA investigating imaging solutions. The most significant programs include MONTAGE, MOSAIC/AWARE, and SCENICC. We maintain close ties to both our academic and industrial partners providing us with a variety of resources with which to develop optimal solutions for our customers.
Facilities and Equipment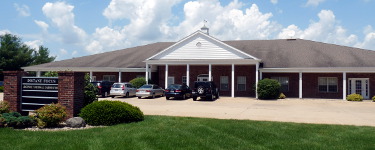 DFC has over 6,000 ft2 of engineering, prototyping, and fabrication space. We provide optical, mechanical, electronic, and software design support in addition to building prototypes and fabricating custom optical elements in house. We have several large optical tables for breadboard setups and experimentation to support our optical work. We can rapidly produce initial mechanical prototypes in house using several 3D printing platforms and a Makino 3-axis CNC mill.
Team
The Distant Focus team is a group of dedicated individuals doing what we love to do. Our expertise in Optical, Mechanical, Electrical, and Software engineering allows us to tackle complex problems. At the same time, we emphasize speed and efficiency to allow us to complete projects within very challenging timeframes.